Sync tab
NOTE  Available only in v8.x. Not sure which version you have? Click here.
SECURITY  All Workplace Desktop users
NAVIGATION  Windows taskbar >

> Preferences... > Preferences button > Workplace Sync tab
NAVIGATION  Mac menu bar >

> Preferences... > Workplace Sync tab
This tab allows you to set your preferences for syncing, and to access a variety of other sync-related functions.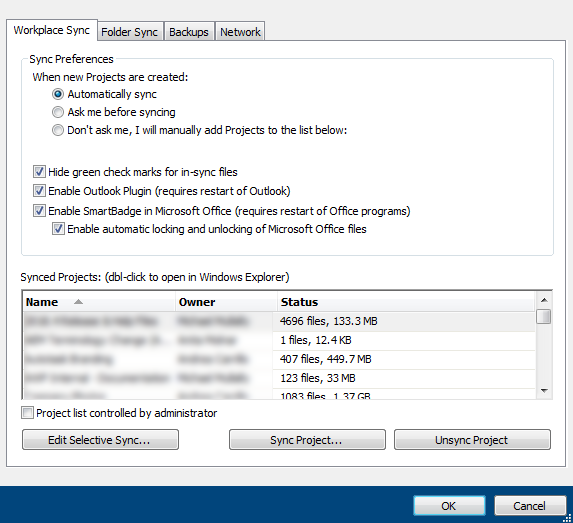 This topic describes how to set your Workplace sync preferences on this tab. For more information concerning other functions accessed here, refer to:
Sync and unsync projects with Workplace Desktop
SECURITY  If the Projects to Sync policy is enabled for you, the Project list controlled by administrator check box on this tab will be selected by default, but you may clear the check box to customize the projects you wish to sync. If you select the check box again, only projects designated in this policy will be synced.
How to...

Edit your sync settings
Go to Preferences... > Preferences button > Workplace Sync tab (see paths, above)
Set your preferences as described in the table below.
Setting
Definition
When new Projects are created
Select a radio button to specify how you would like Workplace to handle syncing for new projects. The options are:
Automatically sync: Select this options if you would like Workplace to sync all new projects without your interaction..

Ask me before syncing: Select this option if you would like Workplace to prompt you before syncing new projects.

Don't ask me, I will manually add projects to the list below: Select this option if you only want to manually control which new projects are synced.
Hide green check marks for in-sync files
Select this option to hide check marks on files within the Workplace folder that are fully synced.
Enable Outlook Plugin (requires restart of Outlook)

This option allows you to enable or disable the Workplace Outlook plugin

Enable SmartBadge in Microsoft Office (requires restart of Office programs)
Enabled or disables Workplace's SmartBadge feature. For more information, please refer to SmartBadge
Enable automatic locking and unlocking of Microsoft Office files

This feature, which works in conjunction with SmartBadge, allows Workplace to automatically lock and unlock Microsoft Office files that are synced to Workplace when you open or close them.

This option is only available when the Enable SmartBadge in Microsoft Office option, described above, is selected.

Click OK.