Manage Backup Folders
SECURITY  Administrators and Super Administrators
NAVIGATION  Workplace Online > Configuration > Team Settings > add the Default Backup Folders policy to a policy profile or enable the Default Backup Folders policy in default policies > Save > click Manage link
NOTE  Backup functionality is only available for teams with metered Workplace plans.
The Backup Folders policy allows you to specify the default folder paths to be backed up to the Workplace service. Once the Backup Folders policy is added to a policy profile, you will designate the new path(s) on this page.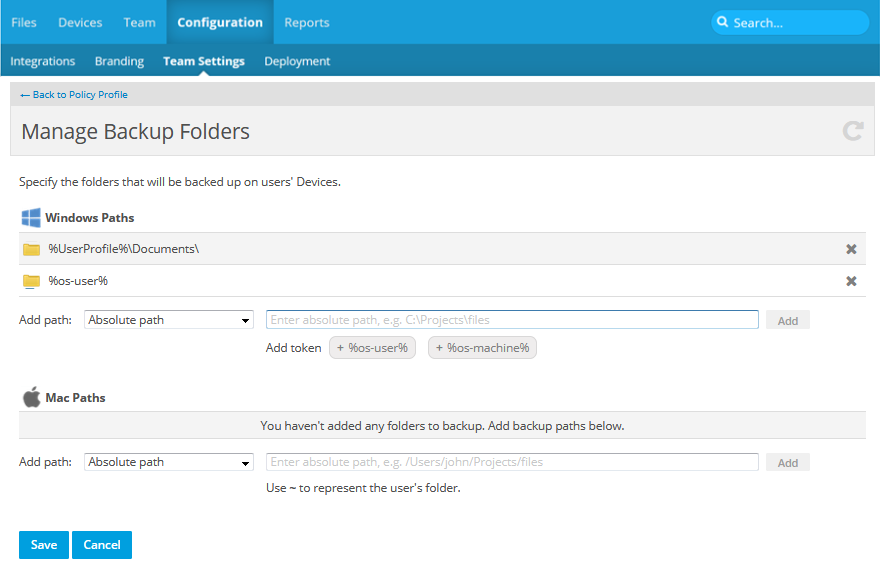 If this policy is enabled, the Backup paths controlled by administrator check box on the Workplace Desktop Backup tab will be selected by default upon installation of Workplace Desktop, but users may clear the check box to customize the back up paths.
If the user selects the check box again, only paths designated in this policy will be backed up.
How to...

Add a path
Select Absolute Path or a predefined path from the dropdown list.
For Windows, optionally click a token to add it to the path. If you're unsure of what the tokens mean, hover for a tooltip.
For Mac, use ~ to represent the user's folder.
When your path is complete, click Add.
NOTE  You may add multiple paths.
Click Save.

Delete a path
Click the X icon next to the path you wish to delete.
Click Save.