Add a user
SECURITY  Administrators and Super Administrators
NAVIGATION  Workplace Online > Team > Users > + Add a User button
You'll use this view to add users to your team one at a time. If you want to add several users at once, refer to Import users.
NOTE   To make adding users faster and more consistent, remember to set up new team user default values on the User Defaults page.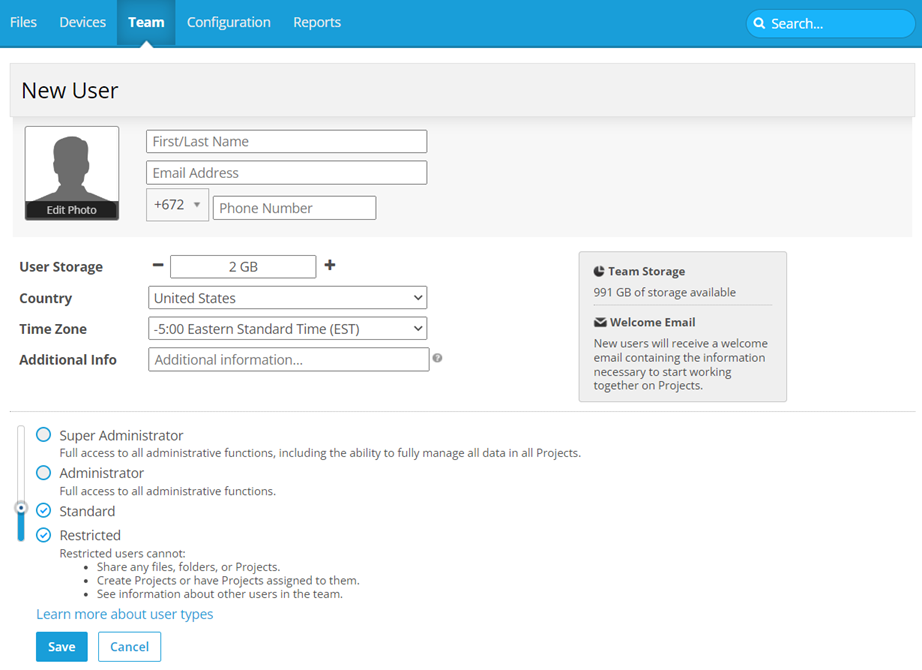 How to...

Add a user
Go to Workplace Online > Team > Users.
Click the + Add a User button.
Complete the fields on the New User page as described in the table below:
Field
Description
First Name/Last Name
Enter the first and last name of the user.
Email Address
Enter the email address of the user.
Phone Number
Select a prefix, if necessary, then enter the user's phone number.
User Storage
(metered plans only)

Use the + and - icons to increase or decrease the amount of storage available to the user, or enter an amount manually. The default value for this field is 2GB.

The storage allocation cannot exceed the amount displayed in the Team Storage area to the right of this field.

Please note that any files stored within a project use the storage allocation of the project owner, regardless of who uploads the files.

For unlimited plans, this field displays the word Unlimited and cannot be edited.

Country
Select the user's country.
Time Zone
Select the user's time zone.
Additional Info
Enter any additional information about the user. This information will be displayed on the User details and Edit a user pages.
User type
Use the slider to select the appropriate user type. Your selection here will determine what the user can see and do in Workplace. For details, refer to User types.
Click Save.

Add a user photo
Click the Edit Photo link. This will open the Update Photo popup window:


Click Browse.
Navigate to and select the image file you wish to use.
Use the blue square on the image to adjust cropping. A preview appears on the right.

Click Save.