Manage Devices
SECURITY  Administrators and Super Administrators
NAVIGATION  Workplace Online > Team > Manage Devices
This page provides all the device management options available on the Devices List. The difference is, on the Manage Devices page, those options are available for all devices for your entire team.
Of particular benefit is the ability to remotely disable, wipe, and purge devices when required. Additionally, this tab allows you to manage device approval if approval is required by the policy profile assigned to you by your administrator. Refer to Policy Profiles.
You can also track devices that have been quarantined as a result of a security incident by filtering on Quarantined Devices. If there are quarantined devices present, the grid will be filtered automatically to display quarantined devices. For more information on security incidents, please refer to Security and Ransomware Incident details.
NOTE  If you are an administrator and device approval is required for your team, you'll receive an email when another user adds a device. You'll be able to approve or reject the device from the email, without having to log in to Workplace Online.
NOTE  When devices are pending approval, the number of devices pending is shown on the Team tab as well as on the Manage Devices tab, making it easy to see when there are devices pending approval.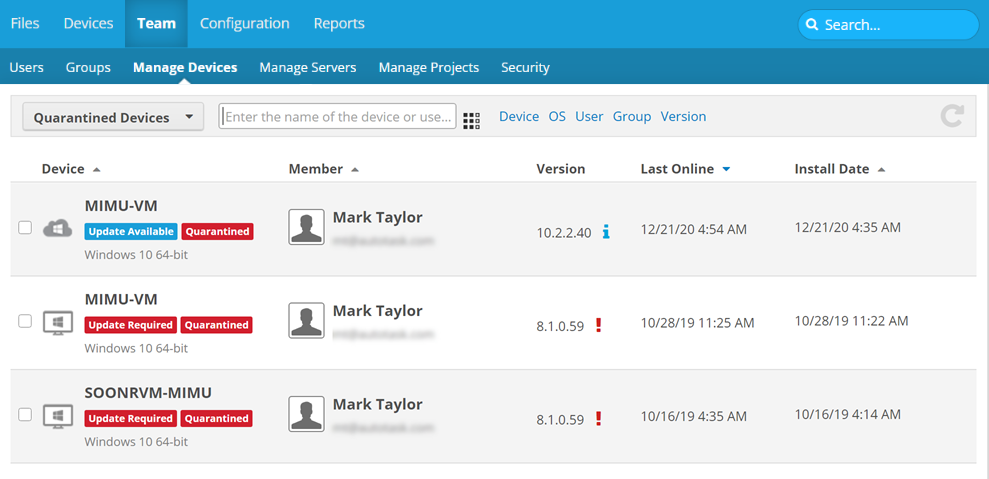 Depending on the current status of a device (active, disabled, recycled, or deleted), different options will be available:
Device Status
  Available Actions
 
Approve
Reject
Disable
Enable
Recycle
Delete
Wipe
View Security Incident
Pending
**
**
 
 
 
 
 
 
Active
 
 
*
 
*
 
 
 
Disabled
 
 
 
*
 
 
 
Recycled
 
 
 
 
*
 
 
Purged
 
 
 
 
 
 
 
Quarantined
 
 
 
 
 
 
 

* Wipe is an additional option when you disable, recycle, or delete a device. Wiping a device will always purge the device.

** Only available when device approval is required by Policy Profiles.
Device Count Restrictions
As outlined in the End User License Agreement, a Workplace user account is intended for use by one person. Users are restricted to a maximum of three active Workplace Desktop installations, three active Workplace Mobile installations, and three concurrent Workplace Online sessions.
Accounts that exceed these Workplace Desktop and Workplace Mobile device counts will be unable to add more devices until devices in excess of the restrictions are disabled or recycled. To do so, simply right-click a device on this list and select Disable or Recycle.
How to...