Deploying Workplace: Hybrid model
EXAMPLE  The information in this topic is intended for Workplace administrators tasked with setting up and managing a Workplace implementation.
NOTE  Please be sure to fully review our Getting started: Projects and Getting started: Implementation topics before proceeding with this supplementary guide.
The Workplace hybrid model allows you make all your files accessible via Workplace and also retain a local, centralized data storage to make the data set available via the local network. The Workplace service keeps all the data on the local storage both accessible internally and in sync with Workplace.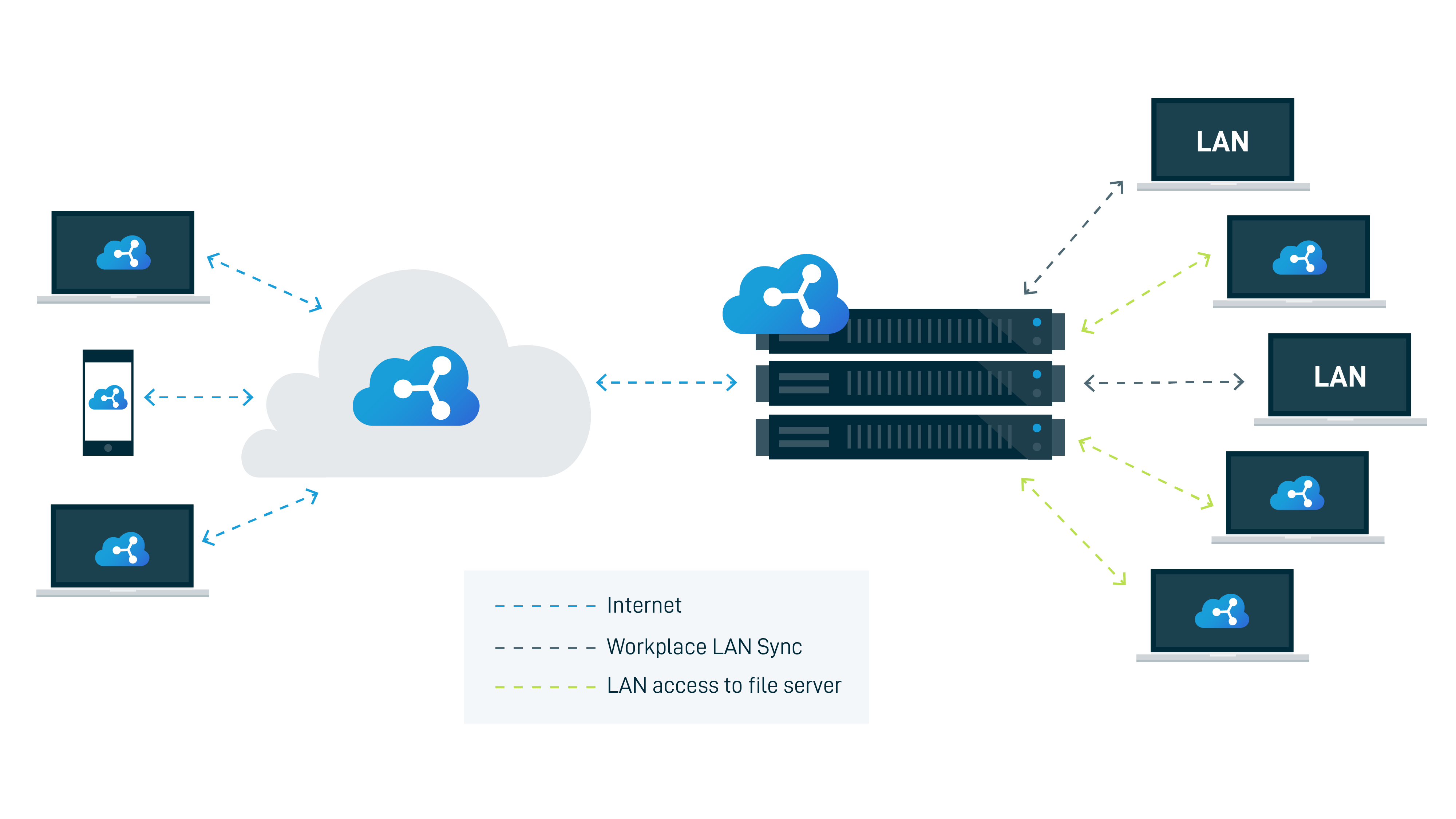 Requirements
Workplace Server
Workplace Server must be installed on the LAN to facilitate syncing between the local file server and Workplace.
Please review the Workplace Server Requirements before proceeding.
The requirements have a direct correlation to usage (and thus throughput). For smaller deployments with low to moderate throughput, the recommended specifications should be more than adequate. A large scale deployment with a high numbers of Workplace users and frequent file activity (uploads/downloads/modifications) may need more powerful hardware and/or multiple Workplace servers.
Additionally, note that other processes running on the machine hosting Workplace Server may mean Workplace Server has insufficient resources to operate optimally.
Workplace Server needs very good throughput to the local storage! If feasible, install Workplace Server on the local file server. Alternatively, we recommend installing Workplace Server on a dedicated machine with very good throughput to your file server.
Internet Connection
A good connection is critical! Again, the requirements correlate with throughput. Take into consideration that, on top of the current Internet traffic, Workplace Server will be transferring (potentially) large amounts of data. As a rough guide, we'd recommend a minimum in the range of 10-50 Mb/s (up and down), dependent upon the line quality.
Workplace requirements
An administrator account within the Workplace Team.
NOTE  To sync projects to Workplace Server, the projects must first be shared with the Workplace Server. Learn more in Manage project, folder, and file team shares.

Checklist
You have defined the priority in which to sync projects.
You have confirmed that the data structure is in compliance with the guidelines defined in Getting started: Projects.
The Windows user account under which Workplace Server service will run has full access permissions to the entire folder structure on your file server.
Machine(s) designated to host Workplace Server.
You have confirmed that Workplace Server and connection requirements have been met.
You have credentials for the Workplace administrator account.